Mechanical Bull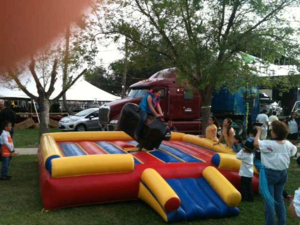 Description
Mechanical bull rentals
Mechanical bull rentals add a WOW factor to any event. Mechanical bull rentals are a safe, fun, and unique addition to the party when correctly set up and operated. RGV Party Rentals is the number one rated event rental company in South Texas with fully trained operators and staff. If you really want your party to be one for the ages, make sure to book an inflatable water slide or moon jump to pair with your bull!
RGV Party Rentals is the best when it comes to setting up a mechanical bull rental rodeo!
Our goal is to provide our customers with the safest, most fun we can. Our mechanical bulls are operated with either the use of two standard household outlets or we can supply a generator. Because we use the top of the line equipment, we have the flexibility to set up and operate at virtually any location. Each of our mechanical bulls is equipped with an inflatable area with walls to serve as padding for the riders.
Are Mechanical Bull Rentals Safe For Everyone?
Yes. Kids from all ages are encouraged to ride our mechanical bull. Our operators are trained in safety and can adjust the control settings individually for each rider. Young children and the elderly are able to ride the bull on our slower speeds without concern. But, because we're located in Texas, we know some party goers want to put their skills to the test so that we can kick it up a notch upon special requests.
With a small twist of a button on our mechincal bulll we can adjust to the following settings:
Small - Younger and elderly
Medium - Average 10-14 year olds
Advanced - Most all other riders
Texas Cowboy - This will depend on how adventurous and athletic you are

Regardless of what level you ride at, having a mechanical bull rental will turn your party into an unforgettable event.

* 4 HOUR RENTAL
* 1 GENERATOR NEEDED
* ATTENDANT NOT INCLUDED